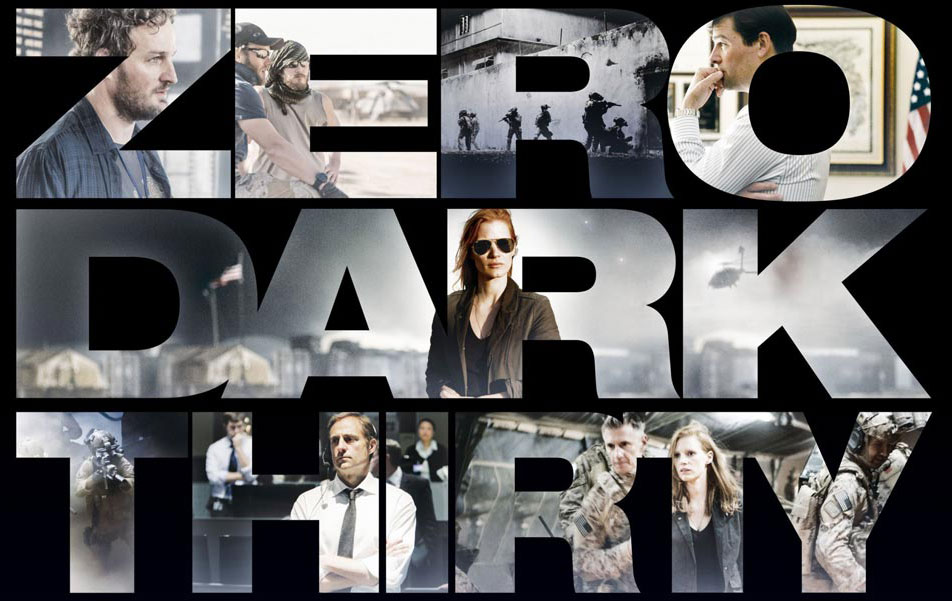 Following her 2010 success with modern warfare drama The Hurt Locker, Director Kathryn Bigelow makes her return to the big screen with Zero Dark Thirty, a dramatic thriller about the decade long hunt for Al-Qaeda leader Osama Bin Laden.
From early on the intensity levels are set high, with the opening sequence of the film playing a 999 call from a trapped victim during 9/11 – but unfortunately these levels aren't maintained. A number of fantastic sequences including night vision raids and fascinating interrogations are broken up by longer, slower scenes that in places stifle the momentum.
These slow scenes at times are not helped by the performance of Jessica Chastain (Maya) who despite bringing a strength and necessary impassiveness to her character, occasionally comes across as a borderline obsessive who is actually just a pain in the arse to work with. But to her credit, a female lead in a war film is a rarity and it's a role she plays well. We see her grow from a timid CIA agent reluctantly deployed in Pakistan, to a confident and tenacious woman who is not afraid to assert herself in front of men who are reluctant to trust her.
As Maya's frustrations continue to grow the pace increases, until the order is eventually given to invade Bin Laden's compound, resulting in a slow-burning but gripping climax.
Yet the whole plot seems a bit simplistic. Given that they are hunting the world's most wanted man, the whole operation lacks complexity and this is where the film loses some of its credibility. The accuracy is also questionable, as although it depicts that prisoner information was vital in locating Bin Laden, the extent to which this is true is highly debateable.
This combined with scenes portraying the treatment of prisoners during interrogations – which show American operatives using a number of torture methods – surround the film in controversy.
In conclusion, even though Zero Dark Thirty has been nominated for a host of accolades, including the Academy Awards 'best picture', it is hard to grasp, why? It's a good film, with a solid plot, high production values and some impressive performances, however when compared to recent recipients of the same award such as Slumdog Millionaire and Crash, it's hard to put Zero Dark Thirty in the same bracket.
Zero Dark Thirty is a good film with fantastic, albeit controversial sequences and some good acting performances, but its debateable accuracy and slow paced progression mean it requires complete concentration, objectivity and patience in abundance.
3 ½ stars.